Whale season | by: admin | July 24, 2013
This is the "picture of the day" from Ocean Adventures in Plettenbergbay.
The Southern Right Whales have arrived !! We could also watch them from Robberg Nature Reserve recently. Can we see them in Knysna? Yes, you can go for whalewatching tours with one of several operators, e.g. Garden Route Boating Adventures  for a sporty trip or Springtide Charters for the more luxurious event.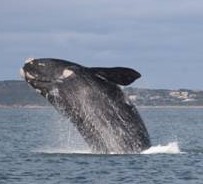 Go Back